Business Services and Facilities
Countersurveillance-Enabled
Serious Class-A Office in Las Vegas
Work productively and attend meetings with the professionalism of a private office and conference room, discreetly held under a name of a legal services firm.  Complimentary transportation is provided to and from the class-A office building.  Limited secretarial support is complimentary.
Unfettered Success
In addition to your confidential presence in Las Vegas, we can confidentially support your advancing success, while you instill a pleasantly encouraging mood with your strategic business partners. Hold off-book private meetings in a conference room with TSCM sound-proofing—and receive whatever professional business services you need to be able to close the deals.
We coordinate countersurveillance-enabled meetings. Covert arrangements include parking, comprehensive full-service catering, encrypted video and teleconferencing, general clerical support, and any other needs you seek (fees apply).
Please click here to learn more.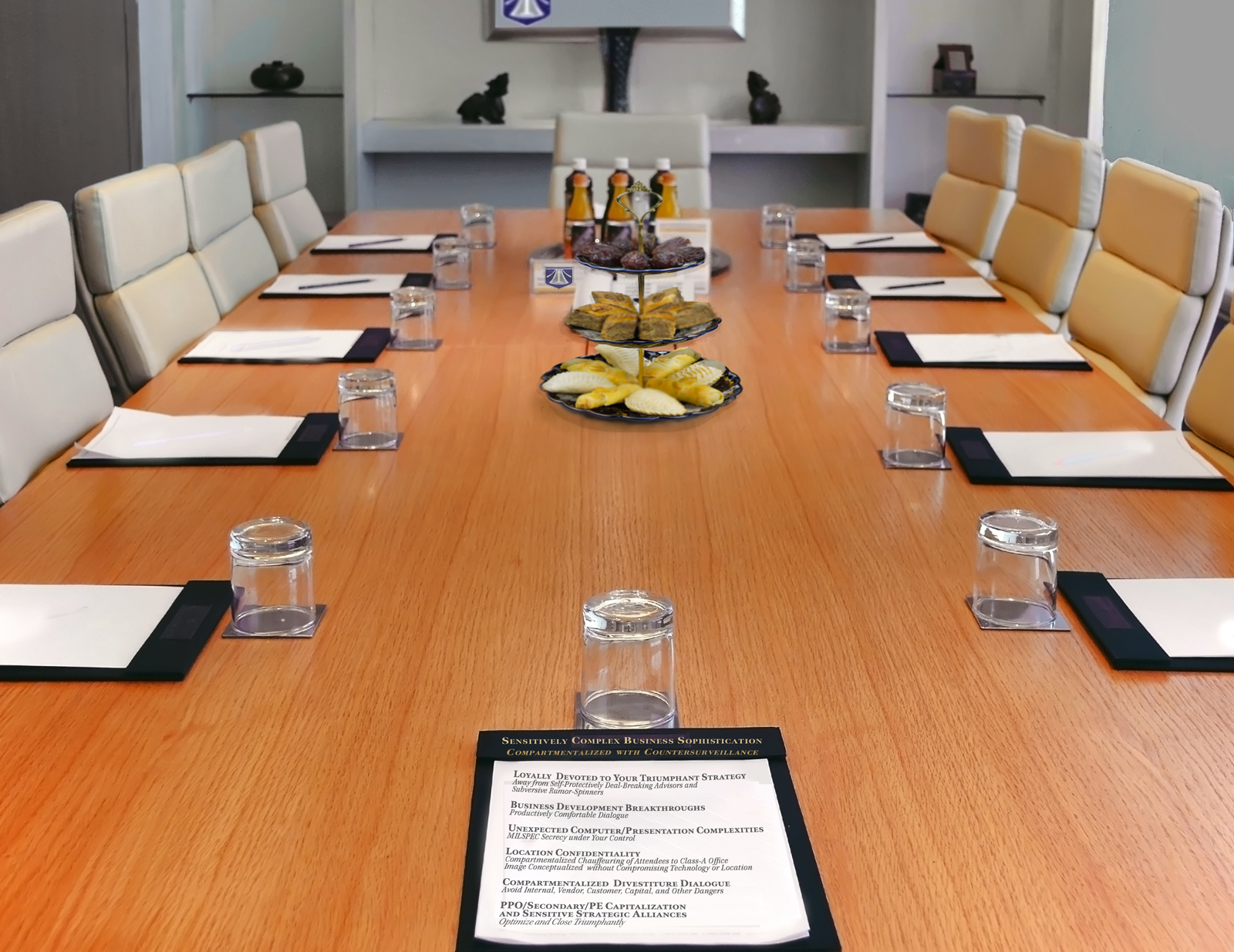 Exposed Address
without

Recklessness

If you are not at any particular danger of manipulators who would try to exploit your good name and successes for their benefit, and you're not engaged in meetings regarding matters for which others would want to manipulate opportunities for themselves, Las Vegas offers countless conference rooms and weekend preschool rooms for your book-club meetings.

There are plenty of croupiers who would be silently excited by your your bags of chips and cash to their tables, indulging you in your relentlessness of perpetually putting everything on the line, with the logic that you can safely depend on a pattern to continue of never losing--just like naive self-reassurances that you're rightfully a successful leader, and that you have nothing to hide. 

From another perspective, perhaps there is a strategic reason for an overtly declared address for an upcoming meeting, or for an interim private office.  You're not reckless, so you're won't open yourself limitlessly to perniciously sustained incursions, such as rootkits, wormholes, and persistent HUMINT infiltration.

Yes, you can still rely on mutual loyalties with us, but also have a lower-cost, more convenient alternative.  If that's the case, here's the routine annex business office:

3753 Howard Hughes Pkwy

Las Vegas NV 89169

702-789-0118