Complimentary Ultra Pool
In addition to your primary pool, luxuriate each full week of regular Signature, Executive Luxury, or Romantic Sovereignty with a complimentary bed cabana at the Moorea Beach Club, via chauffeur.
Free Bed Cabana Each Week
The Moorea Beach Club™ is a premium European-style pool designed for memorable delights. With your coveted bed cabana, you'll be in a position of Vegas pool royalty, bestowing any invitees you select with a luxuriously pampered special status, above the ordinary pool crowd. As a cabana patron, you'll have special hostess status, further exciting anyone you select to join you.
(Limitations apply to food and drink provisions, and do not apply to your invitees.)
Bed Cabana Massage
With the Executive Collection
With each full week of Executive Luxury or Romantic Sovereignty, immerse yourself in the bliss of a complimentary bed massage with a cabana at the Moorea Beach Club™. If the Moorea Beach Club does not have availability, you will be credited for an aggregate of two complimentary massages in your suite. Weekly massages are automatically complimentary with packages of the Executive Collection, regardless of location. Each in-suite massage is provided by a specialist, selected based on your choice of modality, in the privacy of your suite.
With a full week of regular Signature, you may choose to apply your free weekly leisure experience to receive the free bed massage at your cabana.
Among the Many Daily Benefits of the Executive Collection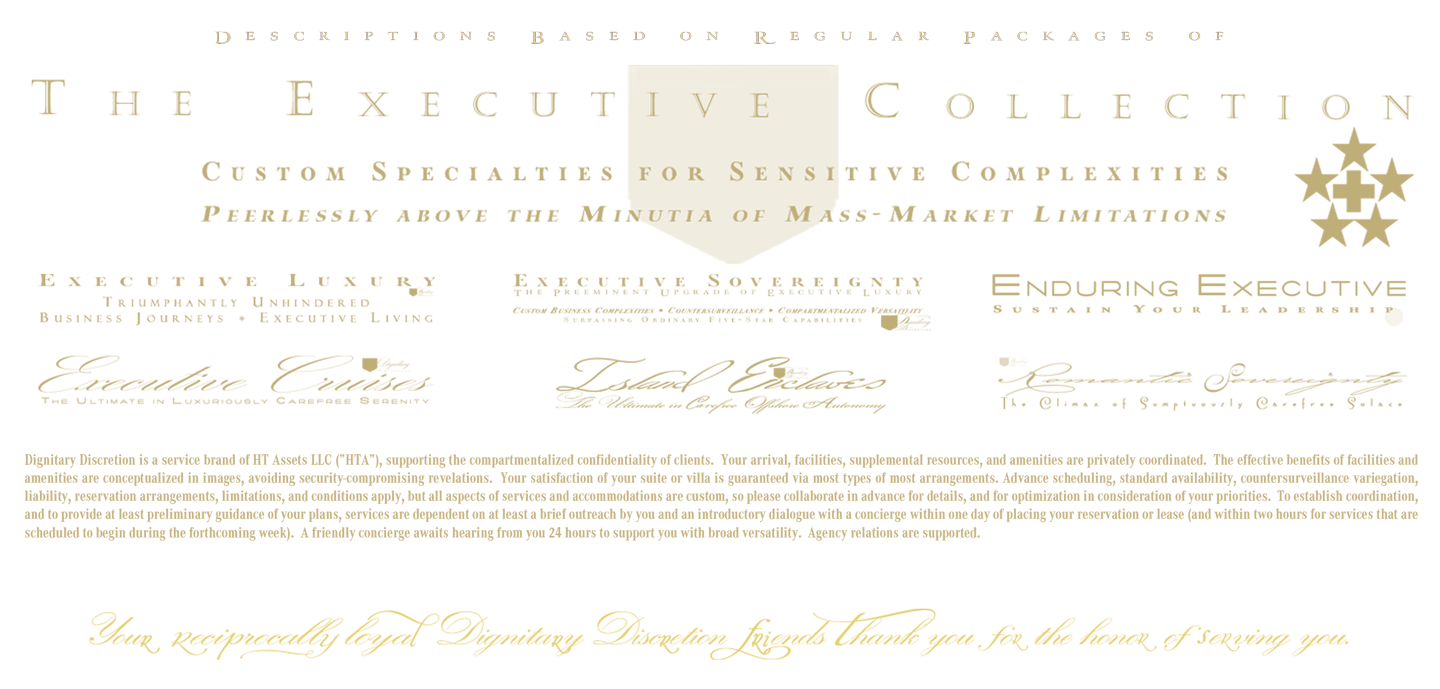 The Executive Collection elevates your daily resort access to a resort pool to that of dedicated VIP privacy and service. Moreover, within the Executive Collection, the Executive Sovereignty and Romantic Sovereignty packages bestow you with your own private pool, enclosed within your luxury villa estate, which is fully attended 24 hours by your dedicated servants—including a swim-to-you-hostess. With the other packages of the Executive Collection, or alternatively with a Sovereignty package if you would prefer a change of scenery to a resort pool, you may choose to have a hostess join you at the Moorea Beach Club™, as often as each day at your discretion.
Joys of a Poolside VIP
Celebrity-Style Dedicated Hostess
An exuberant hostess would be delighted to infuse you with lightheartedness and contentment, any day that you would like.  Relax while she takes you to the pool, confidentially enables your complimentary access (at our cost) and brings you anything you wish.  With all of her time and energy devoted singularly to you, and stands ready to wrap a fresh towel around you when you step from the pool.
As a European-style pool, and, as an attractive young lady with a part-time modeling background, your hostess can be adorned accordingly For a single businessman who has been traveling heavily, she kind-heartedly would characteristically hope to sweeten your contentment, invigoration, and sustained charisma for the triumphant success of your business travels. The mood is of endearing wholesomeness and cheerfully lighthearted interactivity (but—seriously—not of physical interactivity; if that is still not clear to you, please click here.)