Complimentary Appreciation to You with Each Full Week of Regular Signature Hospitality
Custom Invigoration
Private Leisure Excursion
Be invigorated by a free custom leisure excursion with each full week of regular Signature Hospitality. All aspects are individualized based on your greatest delights.
Your Wishes Come True
Las Vegas is inundated with activities that are heavily marketed to tourists. Cheap and free ones are usually pathetic wastes of time, and the trendiest shows tend to be excessively expensive—because the casinos reserve tickets for the gamblers who spend the most money. We strive to provide thoroughly custom experiences that surpass what is readily available to any tourist, endeavoring to provide you with an unforgettably unique delight. With as much advance notice as possible—ideally before you place your reservation—please guide your concierge of what would be your greatest delights. He will confidentially support your wishes.
Exclusions apply to specially discounted packages—including, but not limited to, at-cost volunteer services for military officer veterans.
Examples to give you inspiration to tell us what would be most enjoyable for you
Lake Las Vegas
If you would enjoy doing so, we would be happy to pay for the fees, pack a bag for you, and chauffeur you to the landing. Jet skiing can be exciting, or you can drink in the sunset (and liquor) on a harbor cruise in Lake Las Vegas in Henderson.
Wine or Golf
Other favorites, which you are welcome to select and customize, include private wine tasting with a sommelier or a private round of golf.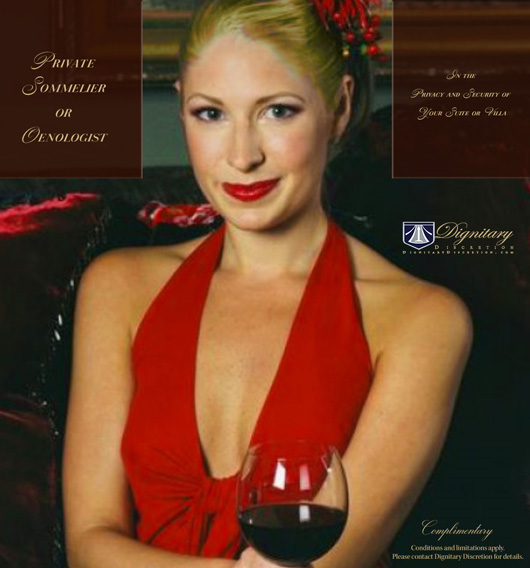 Complimentary Spa Experiences
In the Privacy
and

Restfulness of Your Suite

Specific to Las Vegas, receive both a private excursion and a spa treatment with each full week of regular Signature. You will be pampered in the privacy of your suite.  Massages are provided by specialists, custom-selected based on your choice of modality, and based on your preferences.
Stay Dapper in Your Travels
In-Suite Grooming
For each full week of regular Signature, Executive Luxury, or Romantic Sovereignty, a licensed specialist of your preferred styles will serve you in the privacy and convenience of your suite.  Receive a standard haircut for a gentleman, or standard manicure/pedicure for a lady.
Free Dry Cleaning
Plus Laundry and Shoe Shining
With a minimum of a full week of regular hospitality, you will be provided with free, anonymous dry cleaning, shoe shining, and laundry. Conditions apply, such as being limited to ordinary apparel, with quantities customary for the tenure of stay.
Premium Supplies
Custom • Full-Size • Imported
Many hotels are so skilled at self-adulation in their proud displays of ten-cent bottles of one-type-fits-all shampoos and conditioners that important executives treasure them as keepsakes. If you are staying for longer than a week with a non-discounted Signature or Executive Luxury Package, we shall furnish you with your preferences of full-size bottles of super-premium grooming supplies.  Preferred types of soap, shampoo, and conditioner are usually imported from Paris, London, or Germany.
Please inform us with advance notice of your favorite grooming supplies.  Although particular brands cannot be guaranteed, at least we shall endeavor to order the fundamental styles and features you are seeking.
Ultra Pool Cabana
With a week of Regular Signature, experience a complimentary bed cabana at the Moorea Beach Club™. Moreover, you may choose to apply your free weekly leisure experience to receive a free bed massage at your cabana, provided by Mandalay Bay.
This benefit is an empowerment for members of our niche markets to enjoy greater frivolity. The page of the above link describes our independence for your compartmentalized confidentiality.
Limitations apply based on the type of hospitality package, with VIP services applicable to packages of the Executive Collection.  We welcome the opportunity to coordinate special requests, but obviously not all special requests can be complimentary.  We generally do not apply our own fees or surcharges for expenditures incurred on your behalf.