Private Chambermaids and Stylists
Supporting Your Success and Stamina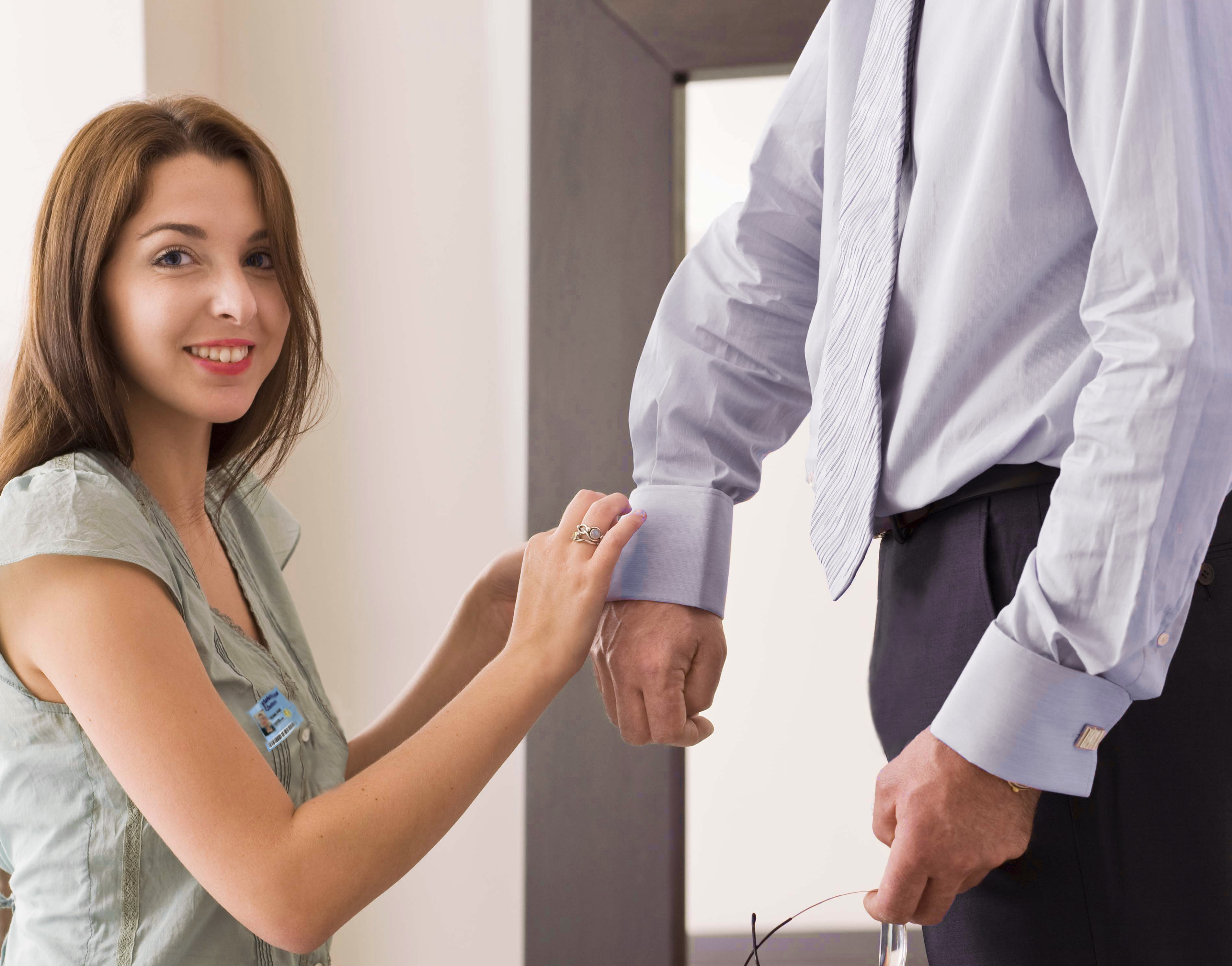 Solid Self-Presentation

Groomed for Success Weekly haircuts are provided by a specialist in refined executive styles.


Make calls, watch a game, or relax comfortably—scheduled for your maximum efficiency and convenience, day or night.

Foundation for a Day in Command Your chambermaid discreetly attends to your personal needs with consistently warm sweetness.

Please click here to preview gently awakening to custom gourmet breakfasts in bed.

Dapper Evocation of Success

Adapting the personal valets of old-world elegance to modern pragmatics of time maximization and momentary first impressions, your reliably cheerful chambermaid will supportively adorn you in your crisply ironed outfit, place your socks/hose and shined shoes upon your feet, link your cuffs, and roll away any lint.

Loyally Dedicated Personal Care All services are on your 24-hour schedule, under your access control, in the countersurveillance backing of your suite or villa.

Please click here to learn about your control of the scheduling of chambermaids, and the screening of their bodies and paraphernalia.

Please click here to learn about your tight 24-hour dedicated team.
Free Dry Cleaning
Plus Laundry and Shoe Shining
You will be provided with free, anonymously untraceable dry cleaning, shoe shining, and laundry.
Conditions apply, such as being limited to ordinary apparel, with quantities customary for the tenure of stay. Services with turnaround times of less than four days are charged as reimbursable at our actual cost, at the rates paid by locals for high-quality services (but not inflated hotel rates).
New Attire
Suavely Adorned
By placing a regular reservation directly with us for Executive Luxury or Romantic Sovereignty, you will be gifted with vouchers and/or cards, accumulating each day of your regular stay, to be used as a resort credit or local experiences. Therefore, as a gift from us, you can bring home local luxury fashion. As examples, gift cards are pre-enabled for you at the following respective locations:
In Las Vegas, the suites of Executive Luxury are primarily provided at Vdara (tm), which is connected to the fashion mall of CityCenter (tm).  (Vdara and CityCenter are trademarked properties of MGM Resorts International, with which Dignitary Discretion is neither affiliated nor subject to any persistent contracts.)
In Newport Beach, the nearby Fashion Island (tm) is a world-famous mall of friendly, exquisite refinement.  (Fashion Island is a trademarked property of the Irvine Company, with which Dignitary Discretion is neither affiliated nor subject to any persistent contracts.)
In San Jose, the mixed-development enclave of Santana Row includes exquisite boutiques, immersed in an atmosphere of contentment.
Suites in Beverly Hills are near world-famous Rodeo Drive.
In the Coachella Valley, both at the resort locations and nearby in picturesque Old Town La Quinta, professional golfers are outfitted for their publicity.
If you find yourself without the proper attire for an upcoming meeting or event, your fashionable chambermaid's got your back (and everywhere else).
Every frequently-traveling businessman has occasionally found himself in need of a matching necktie, different from the last two days of unexpectedly formal meetings. 
Our primary countersurveillance expert often encourages hot tubs as superlative meeting venues for sensitive topics, but perhaps you do not have a swimsuit.
Rain-soaked shoes, a broken clasp, or torn pants can put a halt to your successfully flowing presentations, transforming your confidence-inspiring presence into one of amusement.
One way or another, depending on available time and other factors, she'll solve the problem, with discreet care.
Incidental Medical Coordination
As an example of our discreet service, if you were to experience a minor but focus-diverting medical issue in the middle of the night, for which you competently informed us that you safely wish for a private physician to come to you anonymously so that you can avoid the visibility and paperwork of an emergency room or hotel staff, we would be willing to support you accordingly.
We find that many of our clients and their security managers are always nervous about the unlikely but potentially pernicious risk of urgent medical needs while traveling confidentially. Our structures for Executive Luxury and Romantic Sovereignty are generally intended to enable rapid and sophisticated responses and support. Our specialty service of Enduring Executive provides for continuous, active coordination for those who are recovering from medical treatments or who have complex disabilities.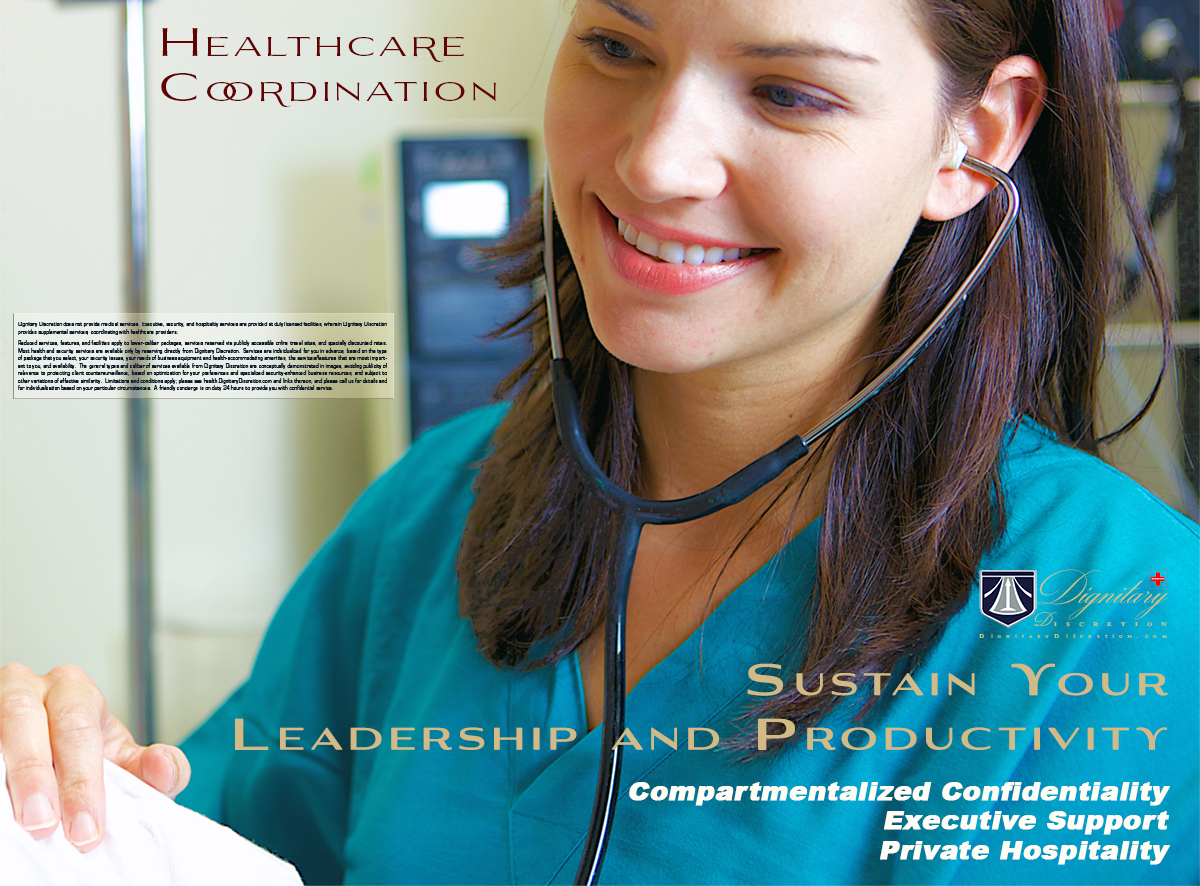 Sustain Your Level-Headed Vigor
Enlivening Massage Each Week
Respectfully Discreet Personalization for Your Preferencee
Each week, be soothed to restful sleep in privacy. With the spaciousness and amenities of suites and villas that comfortably accommodate portable massage tables (or, if you prefer to drift off to sleep directly from your massage, and in-bed massage) and other resources, combined with the effectively limitless specialties locally available, you are able to receive a broad spectrum of spa services in the privacy of your suite or villa.
In the Privacy and Relaxation of Your Suite or Villa
In Safe Hands
Licensed PT, Chiropractor, or
Your Requested Specialist
Soothingly Touchable Protections

for

Your Untouched Discretion
Your free weekly spa experience is provided by a specialist of your detailed preferences. Your massage will be provided by a physical therapist, DO, or other licensed therapist of your request who is individually outsourced based on whatever are your greatest preferences, and soothingly enthusiastic about fulfilling whatever would be ideal for you. Treatments that sensitively accommodate your medical needs can be performed by a physical therapist or chiropractor.
Celebrity-Style Spa Access and Hosting

Anonymity Supported by Discreet Hostess
Complimentary Access to Premium-Caliber Lavishness
Ultra VIP, Warmly Dedicated Care

Please Click Here
With Romantic Sovereignty, choose your preference of a session each day of any of the following, with free relevant equipment:
private dance instruction, custom-selected with a profile that you would most enjoy;
swim (low-impact) or surfing (in Newport Beach) instruction,
an in-home yoga instructor,
a golf instructor at the driving range,
a tennis pro,
a custom-selected fitness trainer,
or,
our most popular...
wine tasting with a sommelier (just remind yourself that wine is now deemed to be healthy, but you don't need to remind yourself about that "moderate" word).
Refined Self-Presentation
A Solid Executive

Custom Grooming Resources
Full-size bottles of European bathing and grooming supplies will be confidentially pre-ordered, based on your styling and presentation preferences, as part of your luxurious all-inclusive care.
Traveling with one's perfume or cologne has always been one wrought with needless weight and the risk of leaking upon changes in atmospheric pressure. These days, there is the additional concern that nobody wants want to raise the ire of a TSA worker who imagines that the elegantly dressed mature lady with an ornate little bottle of Estee so-and-so will be a danger in the skies, or threatening a stewardess to go ahead—make his day—he'll spray you with his perfume—and that will harrowingly mix with an intimately close seat-mate's incompatible cologne.  (Those five intense young men, all with absurdly thick laptops in their laps but not using, are obviously much safer because they are not violating any rules.)
For the Lady
Fragrance Services
Surpassing one of the latest luxuries of the world's most expensive five-star hotels, some of which are beginning to bring small trays of perfumes from which guests can spray themselves with something that's available—but need to call back the front desk again the next day to get another spray, we apply our philosophy of fully customizing each stay.  If there's a particular brand you like, please provide us with advance notice, and we'll endeavor to provide it or a similar style for reasonable use during your stay.  Otherwise, have us provide you with a few choices, choose what you like, and use it during your stay.  Monthly Signature packages are generally suited for upscale, name brands, and we can provide use of ubiquitously available luxury brands for Executive Luxury or Romantic Sovereignty clients who are staying for a week or longer.